Sometimes people can't verbalize their thoughts correctly. That's OK. We've gathered 70 best compliments for your girl. That will make her happy (the full guide read here.) Without further ado, here they are.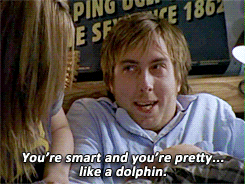 How to compliment a girl
When you like someone, it is easy to say compliments. Take a closer look at your girl, find something wonderful, beautiful, admirable and tell them about it. "You have beautiful eyes, nice hair, a charming smile, a great physique …" – usually it is easy to find something attractive in a person. The only rule here is the rule of sincerity: speak from the heart.
It's a little more difficult when the girl you want to compliment has self-esteem issues: such people want compliments but are afraid to believe them. In this case, to make your compliment easier to trust, tell her the simplest, most obvious things and, if possible, go from her perception of herself. It means you should try to look at her with her own eyes and guess what she likes about herself.
Maybe it's how she looks today? Her humor or her chain? Once you notice, look for words that will be more pleasant for a person to hear. It can be "Cool socks!" for a teenage girl and "I just admire your patience" for a colleague.
Best compliments for girls
We gathered simple and complex, general and more individual options for you. Check them out below.
General but striking compliments
Your mind is as beautiful as your body.
You never cease to impress me, day after day.
Your smile is what I wake up for every morning.
You are sexy even in these baggy clothes.
All I want to do is to follow you, be by your side as long as you let me.
Your eyes… I'm drowning in them.
I love how smart you are.
Nobody has such hair as you. You look gorgeous.
Even a thought of you makes me smile and my heart beats faster.
You are perfect just the way you are.
Highlighting her personality traits
I always dreamed of such a devoted (gentle, caring, sensitive) girl. I am happy to have met you.
Your determination (willpower, confidence, perseverance, any b qualities) deserves some credit. I am sincerely proud of you.
Thank you for always trying to understand me. I appreciate your ability to compromise.
Thank you for your sincerity and openness. You have no idea how important it is to me.
Sometimes you are quiet and a little reserved, but it makes you so mysterious. I like your mystery and modesty.
It's impossible to get bored with you. You are so cheerful and active. You'll always be like that, right?
Did you come up with it yourself? What a fellow you are! Very beautiful (creative, unusual).
I respect your desire to improve yourself and become even better. Although each time, it seems to me that there is no room for improvement. But you always surprise me.
Dear, thanks for your loyalty and devotion. I am glad that I can trust you 100%.
You have fantastic taste. I do not know what I would do without your frugality, accuracy and thoughtfulness.
Adoring her appearance
You have such fine little fingers, I want to hold your hand all the time.
Did you know that little dimples appear on your cheeks when you smile? They're so cute.
You have gorgeous eye color, so rich (deep, bright, rare, soft). By the way, this is my favorite shade.
Please smile more often. Your eyes start to sparkle right away and you look amazing.
You have such a thin waist (graceful hands, a smooth line of the shoulders). I really like your gracefulness.
You are so beautiful that all I want is to look at you.
Wow, you've got a beach-ready body! You can easily be mistaken for a fitness trainer or a dancer.
Mmm, your skin is so delicate (velvet, smooth, soft). You probably take great care of it.
You are so lovely without makeup! Your natural beauty is ill-disguised – which is quite rare.
Sorry, I looked at you and lost my train of thought. Could you repeat it once again?
Admiring her hobbies
Do you draw (sew clothes, do hand-made)? You must have a great taste and sense of style.
Are you dancing! Hope you ever show me. I am sure you are moving gorgeously.
Do you sing? I just thought, what a beautiful and melodious voice you have.
Do you like helping people? It is very nice to realize that I met such a kind and helpful girl.
Enjoy spending time with friends? You are probably the soul of the company. It's exciting to talk to you.
Do you play a musical instrument? I'm sure you have a perfect ear for music. These fingers can create only the most beautiful sounds. Will you play sometime?
Are you doing sports? You didn't even need to talk about it – your figure speaks volumes.
Do you write poetry (prose, plays)? Then you definitely have an outstanding imagination. I have no idea how to write. You are an amazing girl.
Do you read a lot? Would you recommend something? For some reason, it seems to me that you will immediately guess the book that I would like.
Love cooking? So, move to me. Seriously, such a hobby is perfect. You love cooking, and I love eating. We're just a find for each other.
Noticing her habits
Did you know that you wrinkle your nose when you laugh (nervous, embarrassed, sneeze)? It's so charming!
I like it when you twirl your hair around your little finger. You look so naughty and lovely.
I love the way you bite (lick) lips unconsciously. This is so sexy.
You stretch like a cat. As if asking me to stroke.
You always purr so nicely when you try this dish. Waiter, bring three more plates, please.
I categorically refuse to quarrel with you. When you get angry, you begin to sniff soberingly. It's just impossible to be offended.
When you are very passionate about something, you bow your head to one side (show the tongue, frown amusingly, touching hair). It's always interesting to look at you.
I love it so much when you lay your head on my shoulder. You seem so small and defenseless at these moments.
I am calmed by the way you pat me on the head (look at me, hug, kiss) when I'm upset. Thank you.
Did you see your facial expression when you are happy (excited, serious, confused)? How could I not fall in love immediately?
Stating how she changes you
Thanks to you, I want to be better, ber and more successful.
Your support makes me feel like I can take on the world.
I am really happy with you. And this is entirely your merit.
Your words always inspire me and strengthen my self-confidence.
My life really got a lot better after I met you.
I am not the most restrained (open, decisive, accurate) person. But your presence makes me change for the better.
What would I do without your advice (help, pasta)?
When I face some difficulties, I remember that you are always there and love me, and it makes me feel much better. It's very important to me.
Only you know how to make me laugh (rethink something, see the positive, continue to fight).
 You changed me for the better. I still can't believe you are mine.
Best compliments for women
Compliments for girls differ from compliments for women. Take a look at some examples.
I can't believe you are 30 (40, 50, etc). You look much younger!
What a gait, what a look, I see a real lady!
Being a woman is a great job, and you do it very well!
Your femininity can drive any man crazy.
You are so wise, I can tell that in your eyes.
You deserve all the diamonds of the world. You are a queen.
You are the woman the whole world can fight for!
To be honest, I'm a little embarrassed to be in the company of a woman like you.
You are an angel, my dear.
 It seems that a great kindness is concentrated in your lovely hands: it becomes warm and comfortable from your touch.
We gathered all good compliments for your girl. Do not wait for St. Valentine's Day – try to use them all, every day!
As you see, it's not difficult at all. Just tell your babe that she's the best thing that ever happened to you and she will never let you go. Just be sincere, do not lie, be confident and your girl will bloom just for you.
Your Tune2Love ❤️