If you have heard "I love you" at least once in your life, you are so lucky! This person (or maybe even people) has chosen you out of millions and billions of people and made you very special. And sometimes it happens that you can't find words to express your own feelings in response to these touching words.
Tune2Love team compiled the best examples of how to respond to "I love you". Whether it's mutual or not, you will definitely find the right words here.
Responses When You Love Them Back
Of course, you can say "I love you too", but… Does it sound unusual? Probably, not so much. Consider the following more creative examples:



Sweet replies
There are many alternative replies to "I love you". Choose the one that suits your relationship and character more.
"I love you more! To the moon and back."

"I have been waiting for this moment my whole life. I love you too!"

"Now, I'm officially the happiest person in the world."

"Please say that again, these are the most beautiful words I've ever heard!"

"I'm so lucky to be loved by you."

"Can't believe my ears! I dreamt of hearing these words from you!"

"You are the best person I know. And hearing these words from you make me feel on cloud nine."

"I can't say it enough. I love you more than anybody else in the universe!"

"There are no words to describe how happy I am to hear that. I love you."

 "I feel the same, and I will do my best to show that to you."
Sarcastic replies
If you both are smart, a little sarcastic reply won't hurt but bring sparkles. Say that with a smile on your face.
"Who, me? This unbalanced and a little bit weird me? What a strange choice!"

"Well, you are not alone, buddy!"

"I knew it!"

"Why are you telling me only now? God, I have been waiting for this day for ages!"

"Already? Am I SO good?"

"Can you prove it, sweetheart?"

"How could you not?! I am so easy to love"

"Why did you only tell me now? I thought it was love at first sight!"

"Am I dreaming right now? Can you pinch me? Cause it seemed to me, you said you love me."

 "Of course you do. Look at me!"
Epic replies
Want your significant other to never forget what you reply to him? Try these options. The intonation required – playful.
"Why aren't you passionately kissing me right now?"

"WOW, I'm not surprised."

"I don't love you… I adore you."

"Love me? Can you show me how much?"

"So, to get the best person alive to fall for me – done! My bucket list is getting shorter."

"I want to hear these words from you every day of my life."

"What will you do if I say I love you too?"

"I love you more! And you can't reason with me!"

"Do you? How are you going to prove it?"

 "There is no need for words. I see that in your eyes! Do you see that in mine?"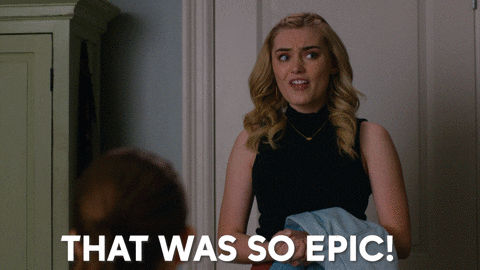 Funny replies
No need to be serious in such a moment. You can use your great sense of humor to amaze and amuse your partner.
"Then we have a lot of things in common! Just joking, I love you too!"

"So you will choose me over Minecraft from now on?"

"Ladies and gentlemen, get ready. It's going to be a loong and hot journey!"

"Oh, you are in trouble, my boy! I'm going to make your life fantastic!"

"Now you are my partner in crime, and there's no way back!"

"So what are we going to do with your feelings, mate? Only make them stronger, I think. I will work on it!"

"Very well. Now you have to watch Gossip Girl with me. Every Saturday. No excuses. And by the way, I love you too!"

"You are lucky to meet such an adorable person like me!"

"Oh, you fell into my trap too easily! But you know, I'm not disappointed."

"How could you? Now I want you even more."
Responses When You Don't Love Them Back
Not all responses to "I love you" are positive. Sometimes we do not feel the same. But it doesn't mean we should break other people's hearts. Even refusal can sound respectfully and gently.
"You are so brave. Saying that probably is not easy. But I can't tell the same right now."

"That's pleasant to hear, but I need some more time to say it's mutual. I hope you understand."

"I would like to tell you I love you too, but I want to do that when I am 100% sure."

"Thanks, your words make me feel really good. I hope one day my words will do the same for you."

"Are you sure? How can people be sure about what they feel? Today, I can't say the same."

"That's a surprise for me. We have known each other for a couple of weeks and I'm not ready to say that I love you too. Give me time, baby."

"I never thought you could say so and never thought of you that way. But I'm glad you told me how you feel. Now, we will figure it out together."

"Already? Am I so beautiful? I'm sorry, I can't say your feelings are mutual. And know I should not apologize, but I still want to. I like you, you are great, but I don't want to lie."

"Thanks for being honest. But I can't accept your feelings."

"Wow, that's unexpected. I thought we are more of friends to each other. I need to think it over."
Photo by Joshua Rawson on Unsplash
How to Respond When They Say "I Love You" Over Text
Many are curious what to say when someone says "I love you" over text. The situation is quite the same, so all the variants above will be good.
Usually people confess their feelings over text because they are too shy to look at your eyes or too afraid of your negative reaction. So it's absolutely normal. But you still can challenge them a little bit: you can say that you wait till the person tells you these words in person.
But if a person sends you just ILY, it's not a confession. It's good only when you have already confessed love to each other, and ILY is just another way to remind you of it.
Now you know what to say when someone says "I love you". You will impress your significant other if you love back. And won't break their hearts if the feelings aren't mutual.
Your Tune2Love ❤️